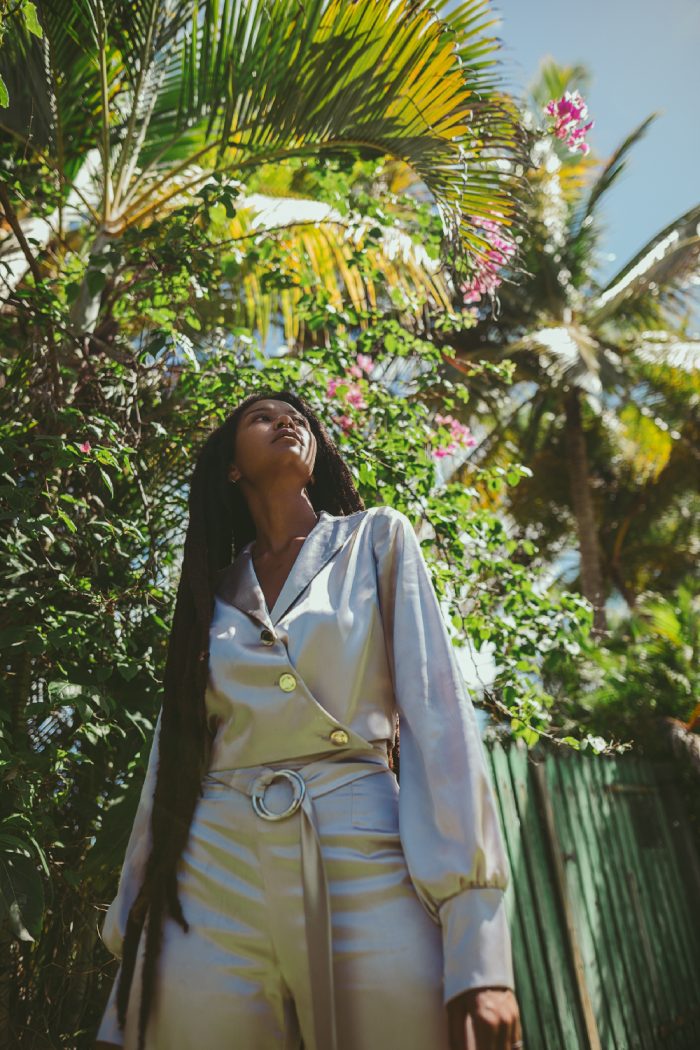 Timeless Set CLM
290.00€ – 990.00€
ou 4 versements de 135€ sans frais avec PayPal (au moment du paiement).
Adopt the timeless ensemble of the Maison Cassandra LE MAISTRE
Lke Romy, wear your CLM outfit with attitude! Ideal for your occasions, this set is only available for pre-order at contact@cassandralemaistre.fr
Send us an e-mail stating:
-the desired fabric
-the desired color
-the desired size OR if you opt for tailor-made
This set was highlighted by the press magazine Nude. in its 76th edition - Glass Animals -. This one presents on 4 pages (from 40 to 43), a shooting session (a bit "roots") carried out with the talented photographer Romana Caban-Chastas.
This young Guadeloupean takes the stage through self-portraits and carries the timeless ensemble of the Cassandra Le Maistre House.
Description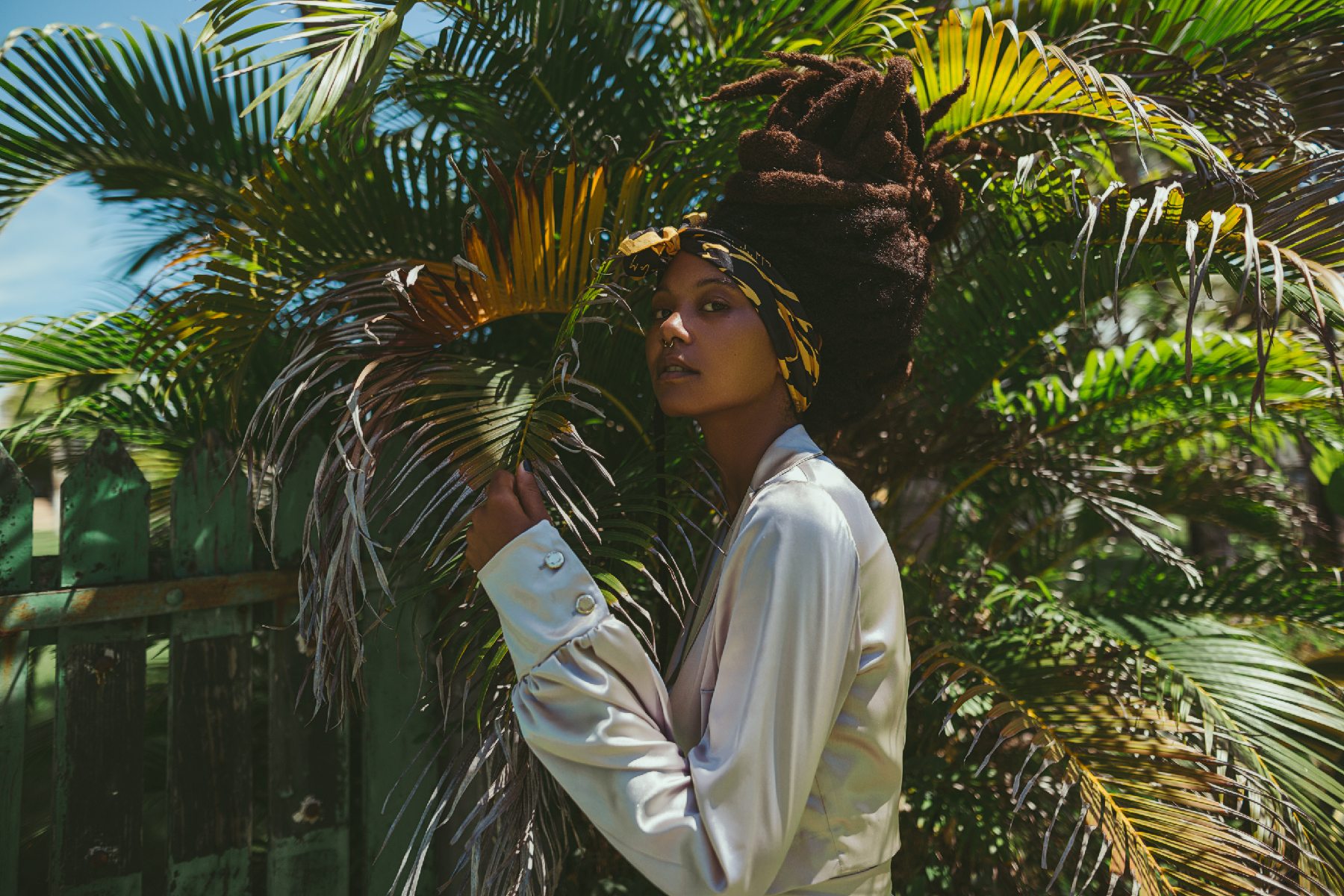 Set consisting of jacket and pants.
Crop top Jacket
Double-breasted button placket adorned with 3 brand insignia buttons
Balloon sleeves adorned with 2 brand insignia buttons
Tailored collar
High waist pants, loose fit
2 italian pockets
Invisible zipper on the back
Matching belt
The inspirations
The jacket is arguably the most exploited product family by the designer.
The jacket is cut short, which gives it a decidedly modern style. Designed with balloon sleeves, these bring all the femininity to the piece. The tailored collar cut very straight contrasts with the side buttonhole.
Its buttonhole topped with 3 buttons is placed at an angle. Its position breaks the lines and brings an avant-garde touch to the cut and the fabric.
True to its DNA, the creator lengthens the silhouette by offering high-waisted, loose-fitting and very long pants, subtly revealing the heel tip.
THE FABRIC
The softness of the silk will be very pleasant on the skin.
This fabric will bring an assertive elegance.
With a right side and a reverse, the silk has a slightly shiny side which confirms its character as a noble fabric.
If you opt for polyester satin, you will have an outfit that is just as pretty but with a material that is much less pleasant on the skin.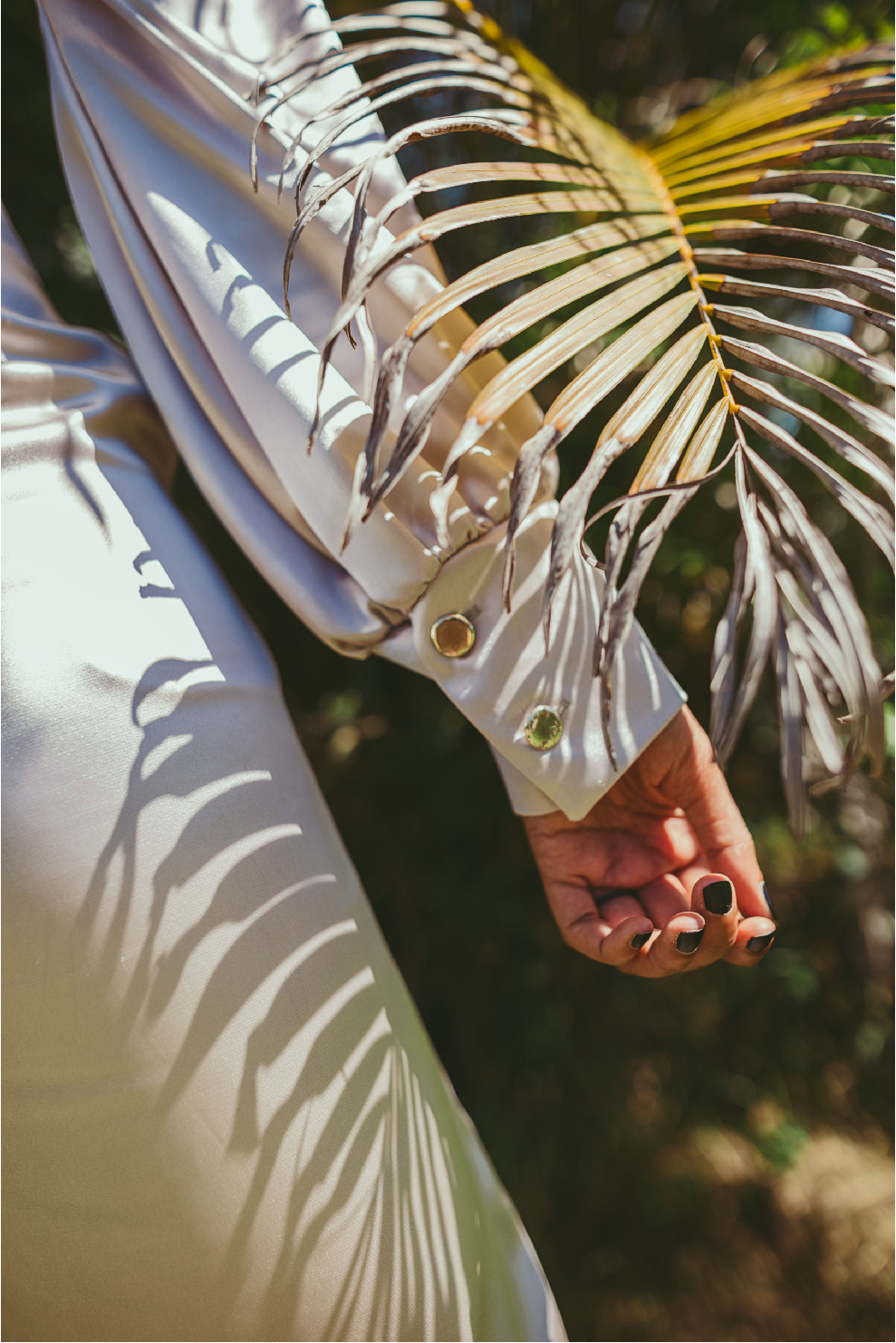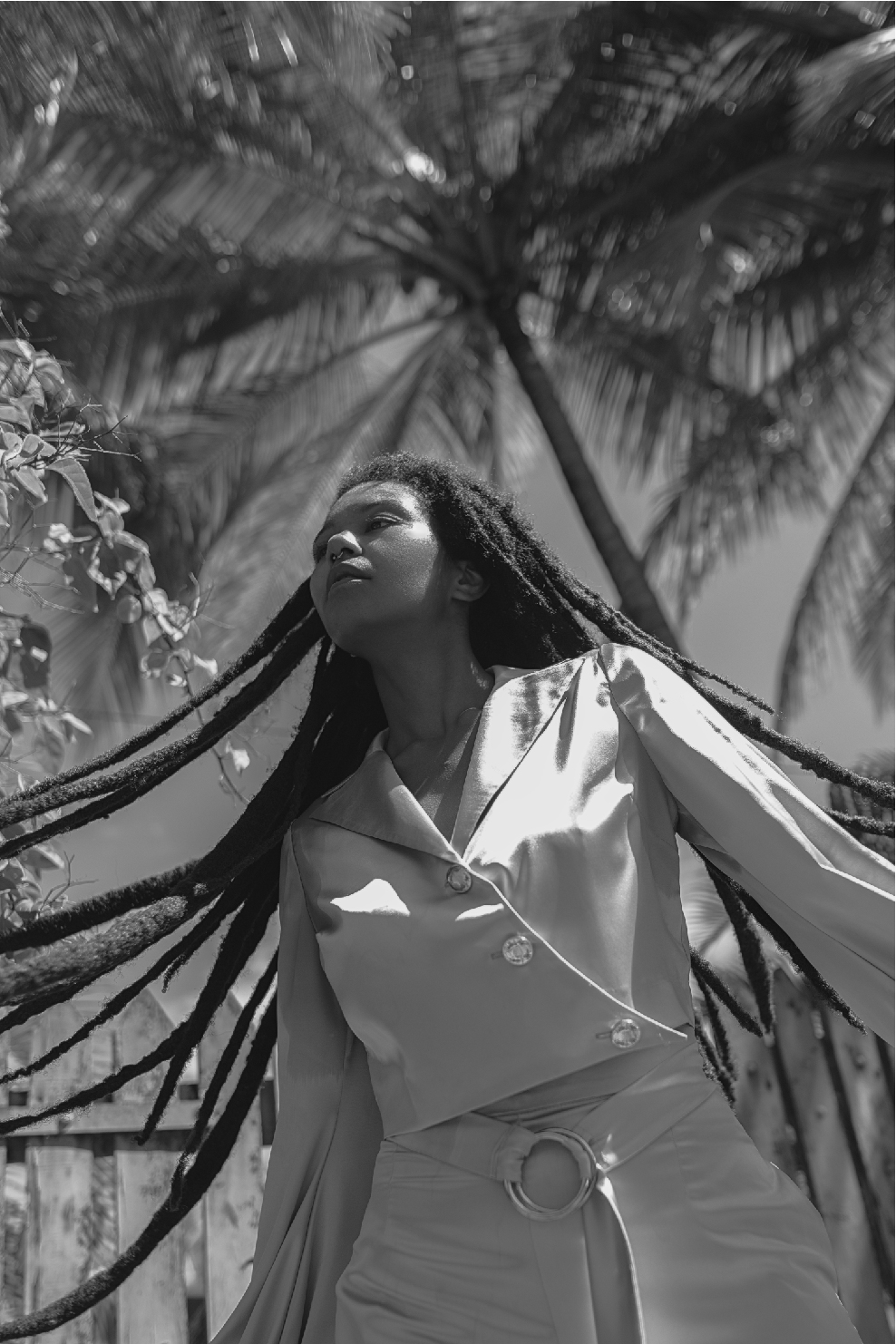 THE COLOR, THE MATERIAL ... you choose!
So that this product corresponds perfectly to your expectations. We adapt to your request!
Would you like the set?
Are you only interested in the jacket?
Are you only interested in the pants?
In what fabric do you want it?
In what size and what color?
Choose the color of your choice, we will get back to you to confirm that it is available!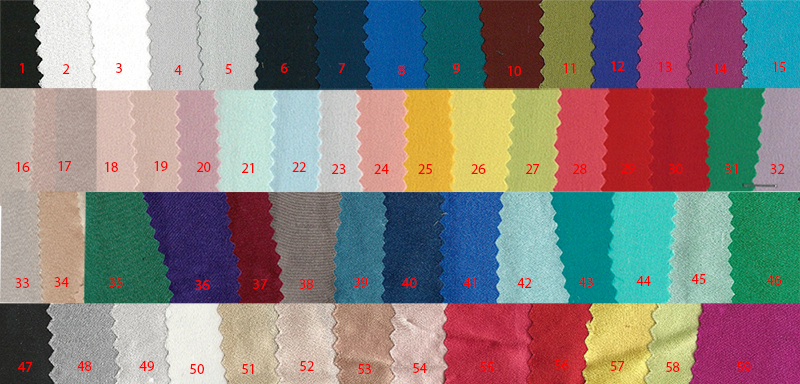 THE PRICES
If you opt for a silk fabric:
The jacket alone costs 620 euros / The pants alone are 480 euros / The set is 990 euros.
If you opt for a polyester satin fabric:
The jacket alone costs 360 euros / The pants alone are 290 euros / The set is 540 euros.
OUR PACKAGINGS
We strive to maintain high standards and quality from product to packaging.
Each product is carefully folded and wrapped in tissue paper. All delicately packaged in a pretty cardboard box with the brand's initials and closed with a personalized ribbon.
A pouch made with the scraps of fabric offered to you for each order made on our website.
Cassandra Le Maistre, you know, it is an awakened brand whose heart is a sustainable approach in short circuit and far from mass production.
Each product is designed to sublimate the female body but also in a responsible approach with materials from end of rolls from major fashion houses (such as Balmain, Balenciaga etc ...).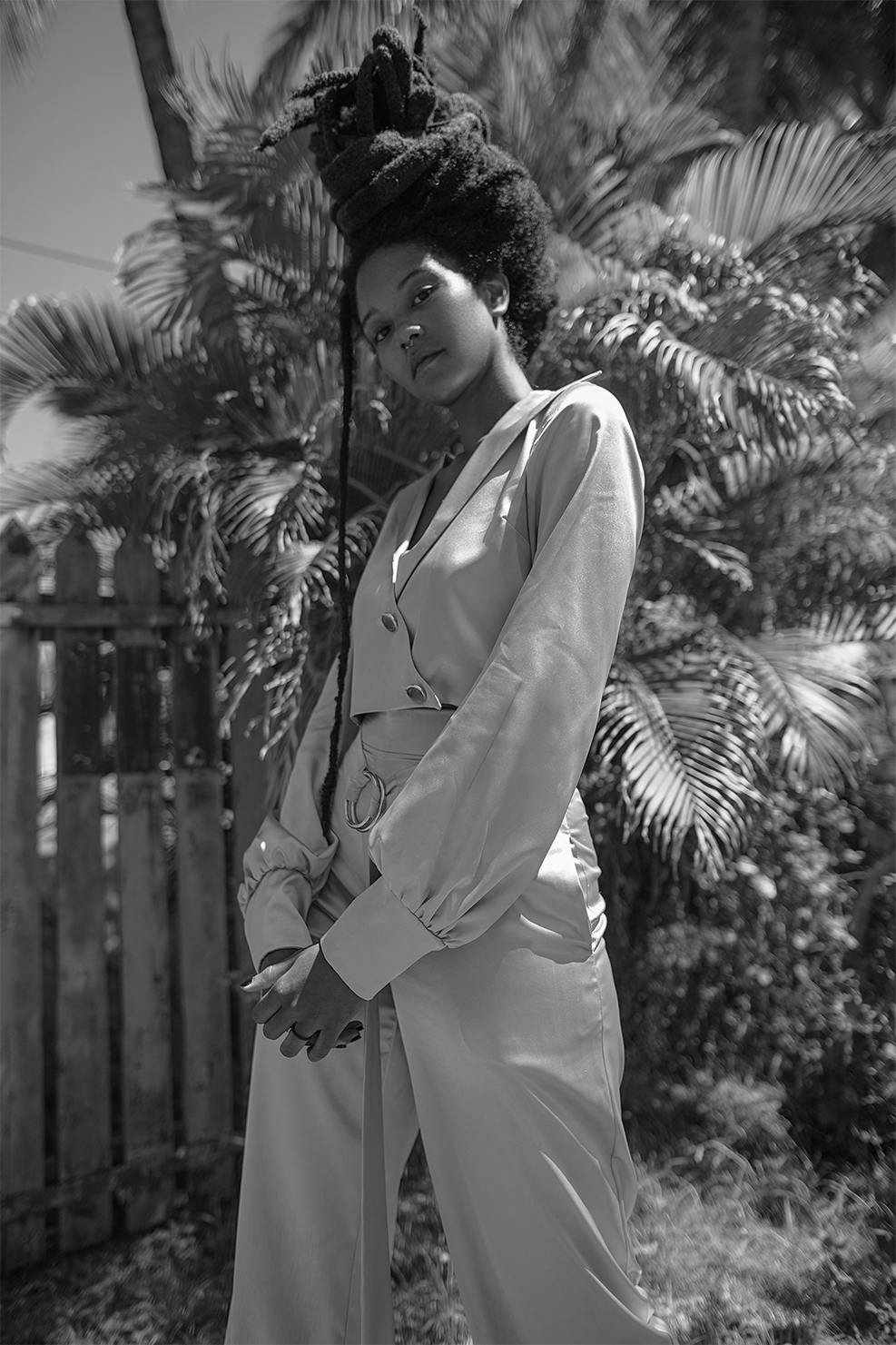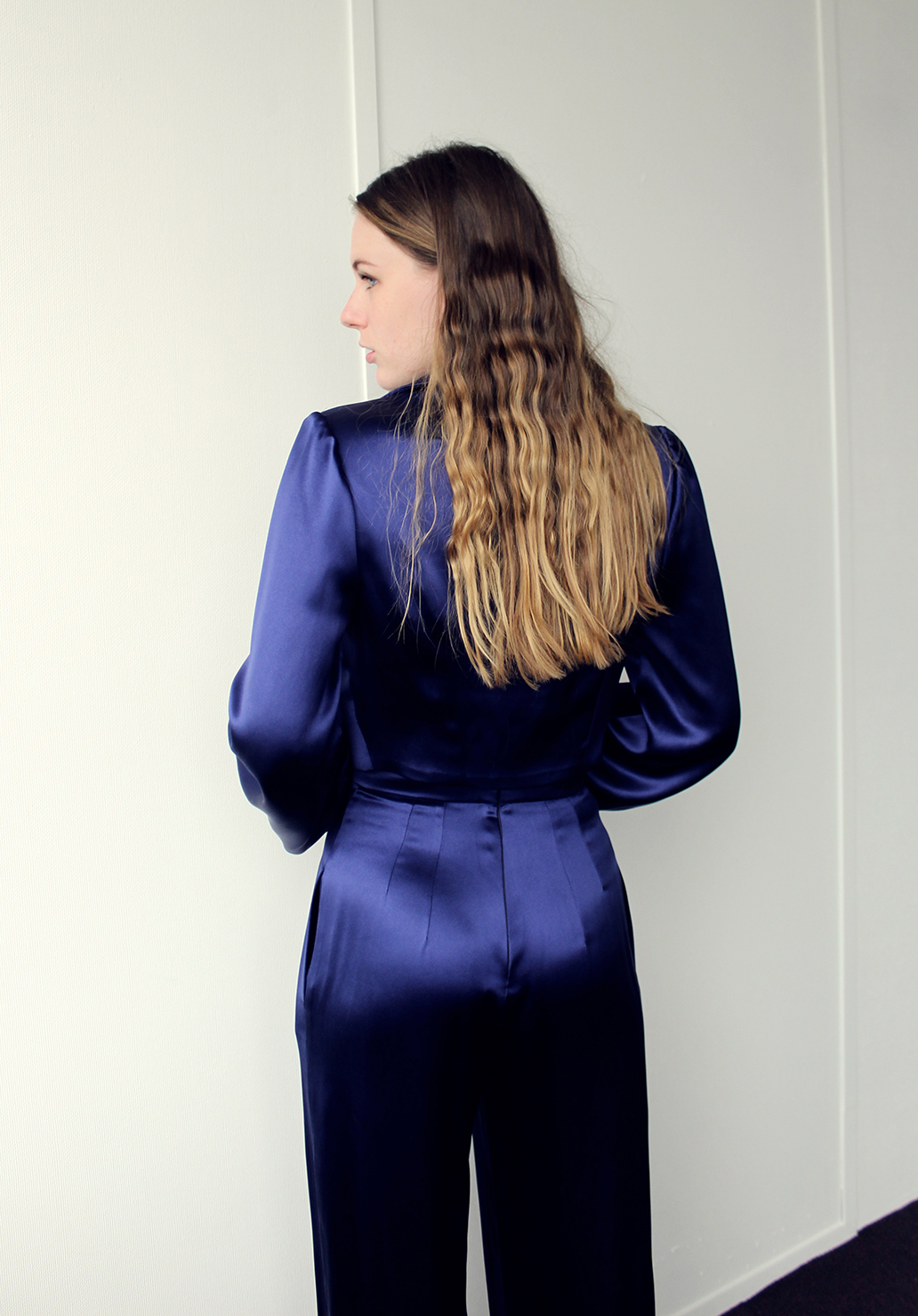 DELIVERY METHOD
We deliver our products via La Poste Colissimo. And Chronopot 24h delivery on customer request.
Néanmoins, si vous êtes sur la métropole Lilloise ou Parisienne, nous vous invitons à nous en informer afin de convenir d'un rendez-vous physique.
DELIVERY COUNTRIES
Metropolitan France
The Overseas Territories (only Guadeloupe, Martinique, Guyana, Réunion, Mayotte, Saint-Pierre and Miquelon, Saint-Martin and Saint-Barthélemy)
The European Union and Switzerland
Is your country not on the list? Do not panic ! Send us an email to contact @ cassandralemaistre before placing an order so that we can calculate the shipping costs for your country.
RETURN AND REFUND
Your order does not suit you? We are sorry and hope you find your happiness again!
We do not make refunds but only exchanges.
Exchanges are accepted within 10 days of receipt of the package. If you wish to exchange a product (s), please re-order and return the old article to us. We will proceed with the refund or the difference which is due to you upon receipt of it.
Items must be in their original conditions (original packaging), new and unworn. Return costs are your responsibility. To obtain the return address send an email to the address: contact@cassandralemaistre.fr by entering the word "RETOUR" in subject.
We do not accept returns from tailor-made items.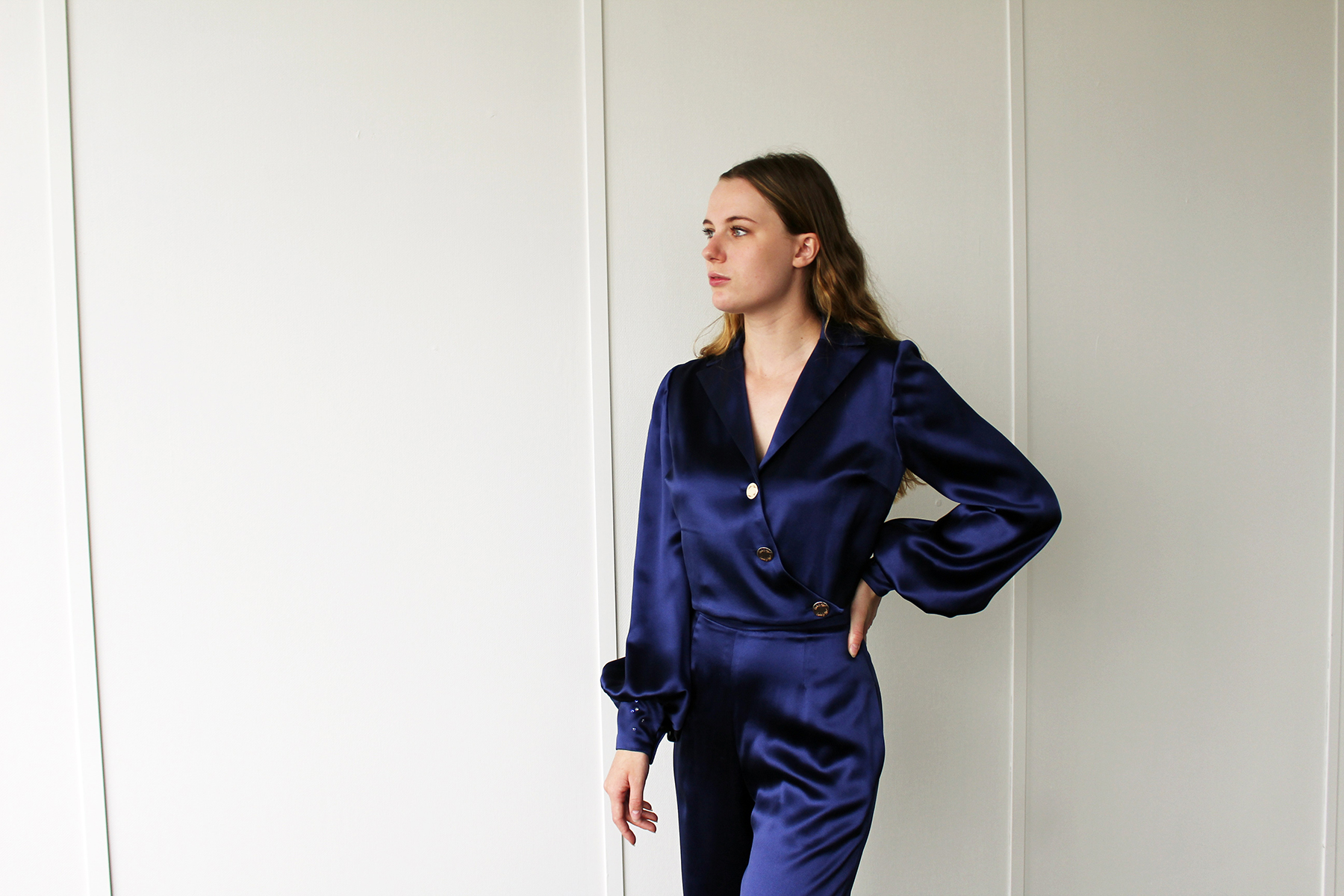 We swear by Made in France
By buying from us, we guarantee you a product made in our workshops in Roubaix. All our pieces are handcrafted in our workshop in Hauts-de-France.
Thus, you contribute to the smooth running of the French economy and guarantee employment.
We are eco-responsible
Our production has a lower environmental impact, since our clothes do not have to travel the world before reaching you.  
Our collections come from "stocks dormants" – we collect fabrics from major fashion houses to create new masterpieces .
We are against mass production
Our company is on a human scale. Unlike mass distribution, we offer limited, semi-unique series. 
Accompanied by her pattern maker Elena (textile engineer, 30 years of experience in the trade), the designer imagines and designs the pieces of tomorrow.
We swear by Made in France
Additional information
| | |
| --- | --- |
| Sizes | 36, 38, 40, 42, 44, Sur-mesure |
| Matières | Soie, Polyviscose |
| Pièce(s) | Veste, Pantalon, Ensemble |